Alegria + Badian Canyoneering Adventure to Kawasan Falls Meetup
₱1,000.00
The Original Full Course Canyoneering Adventure in Cebu is back!
---
✅Private/Joiners Tour    ✅English    ✅4-5 hours    ✅Meetup at Badian    ❌No Hotel Pickup
Categories: 1 Day Tour, Alegria, Badian, Cebu, Half Day Tour, Private Tour, Tours
Tags: alegria, badian, canla-ob, canyoneering, canyoning, cebu, kabukalan spring, kawasan falls, private tour
... people are viewing this right now
Description
Highlights
Join a 4-5 hours Full Course Canyoneering Adventure with 9 major jumps, and rope-swing!
This is the Original Canyoneering Route in Cebu starting from Canla-ob River in Alegria downstream to Kabukalan Spring which culminates at Kawasan Falls in Badian
Approximately 5 minutes walking only from the briefing area to the first waterfall / jump
Don't miss out the 2 jump spots in Alegria
Hike, swim, water-slide, swing, and jump-off cliffs and waterfalls ranging from 1 meter to 11 meters high
Swim into the turquoise clear water of Kawasan Falls, a multi-layered waterfalls emanating from Kabukalan Spring
---
Full Course Canyoneering from Alegria to Badian
Kabukalan Spring and all levels of Kawasan Falls
Entrance and Government Fees
Motorbike/Shuttle ride from canyoneering station to the starting point
Rope Swing Fee
Trained and Accredited Canyoneering Guide
Helmet & Life Vest
Shoes (available sizes: 35-45 EU)
---
What's Not Included
Hotel Accommodation
Transportation to and from hotel/resort
Meals not mentioned
Gratuities
---
What to bring
Any Swimwear – swimsuit, shorts, rash guard, etc.
Canyoneering Footwear – any non-slip footwear

Flip-Flops are not allowed
Sneakers, Running Shoes, Thick Aqua Shoes and Trekking Sandals are ideal. We can provide if you don't have

Towel and Clothes to change
Waterproof Camera / Cellphone in a waterproof pouch
---
Meetup Information
The guide will be waiting at Highland Adventure Tours Canyoneering Headquarters on the day of your tour.
Address: Ginablan, Badian, Cebu
Landmarks: Ginablan Barangay Hall / Covered Court
You can use Google Maps or Waze to help you get here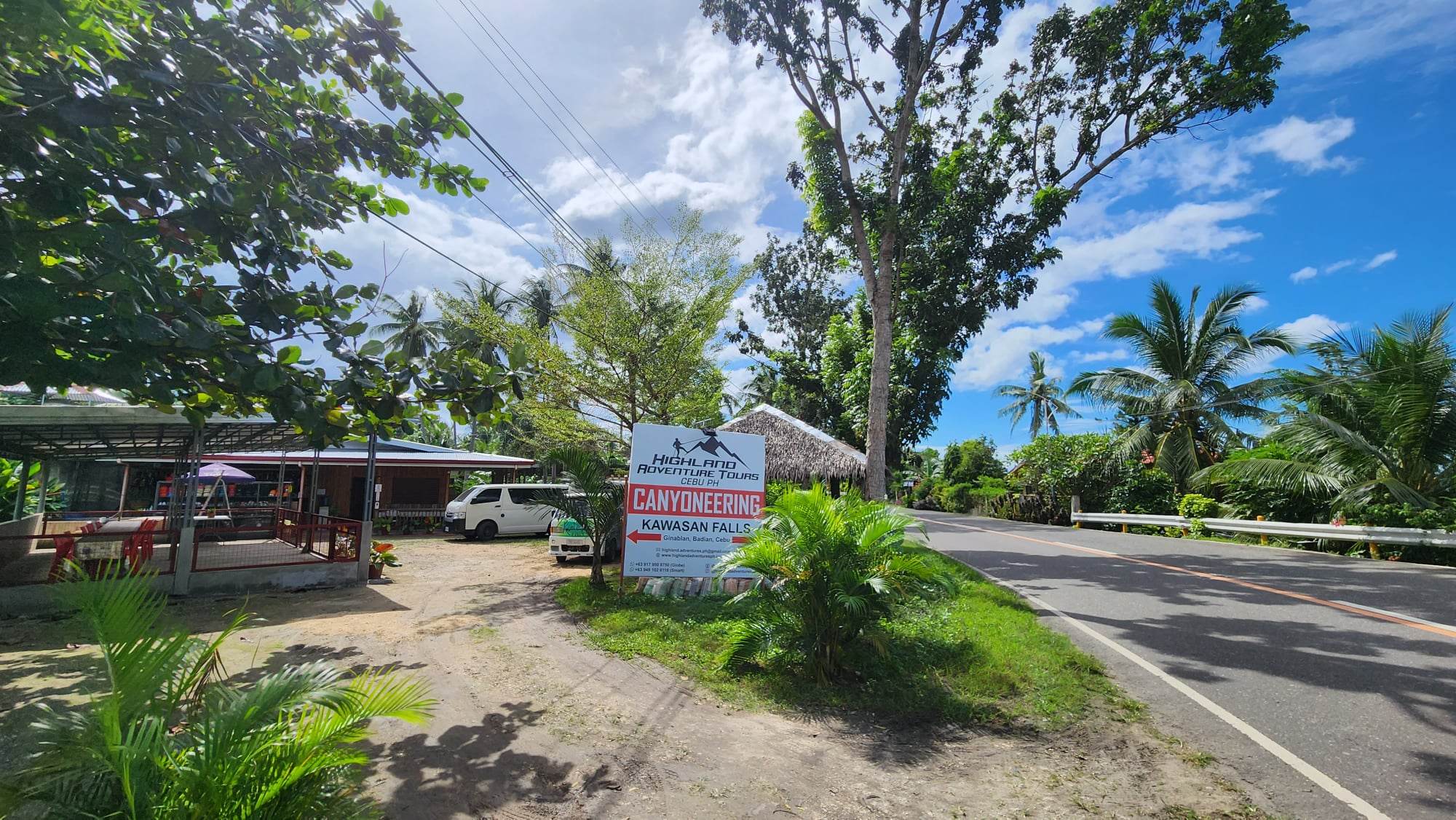 How to get there
» If you're from Mactan airport / Cebu pier
Ride a taxi to Cebu South Bus Terminal, then find a bus going to Ginablan, Badian
» From Cebu South Bus Terminal
Ride a bus (Ceres, Sugbo Transit, Metrolink) going to Bato via Barili and tell the conductor that you are going to Ginablan, Badian and look for Highland Adventures Canyoneering Headquarters. Make sure you ride a "Bato via Barili" route otherwise, it won't pass Barangay Ginablan. Buses are leaving every hour. It takes approximately 3 to 4 hours to get here. You can also ride a Librando Trans bus, a company based in Badian. Their terminal is located opposite to Elizabeth Mall (beside the Cebu South Bus Terminal)
» If you're from Oslob / Alcoy
Go to Ceres Bus Terminal at Bato, Santander by riding a tricycle, Ceres bus, or Sugbo Transit. You can get to our headquarters in an hour by taking a Ceres bus bound to Cebu City via Barili
» If you're from Dumaguete
It is a 20-minute fast craft ride from Sibulan port to Lilo-an port in Santander, or Tampi port to Bato port. You can get to our headquarters in an hour by taking the Ceres bus going to "Cebu City via Barili"
---
Prohibitions & Limitations
---
Unavailability
This Tour is Not Available on April 7, 2023 (Good Friday)
---
Canyoneering Requirements
Participants must be at least 6 years old, physically and medically fit.
This is not recommended to anyone with impaired physical mobility, medical condition such as high blood pressure, epilepsy, etc.
6 to 14 years old kids must present a copy of their ID or any document showing their date of birth, and must be accompanied by a parent or guardian
Parents or guardians must hire a personal guide for each kid age 6 to 10 years old. ₱800 per guide which includes the guide's pay, transportation, gears, and meal. You have to indicate this in the "Order notes" field under the "Additional Information" section upon Booking Checkout.
---
Child Rate
6 years old and above – Same Price as Adult (

Can join the Canyoneering

)
3 to 5 years old – Less ₱1,000 per person (Cannot join the Canyoneering.

Shall wait and swim at Canla-ob River together with a parent/guardian

)
Below 3 years old – Free of Charge (

Not included in the headcount

)
---
Refund Policy

​
No Refund for Latecomers or No-Shows
Canyoneering is Refundable if Suspended due to Bad Weather
Used Motorbike/Shuttle is Non-Refundable (Round Trip ₱150 per person)
FAQs
Q: Can I join this tour even if I don't know how to swim?
A: Yes, you can still join. You'll be wearing life jacket
Q: Can I bring my luggage during the tour?
A: Yes, you can. As long as there's enough space inside the vehicle
Q: Are there lockers at the Canyoneering area?
A: Yes, we have lockers at our Canyoneering station in Badian
Q: Can I use my drone when Canyoneering?
A: Yes, you can use it as long as you have a waterproof container
Q: Can I use my cellphone when Canyoneering?
A: Yes, you can use it. Just put it in a waterproof pouch/case
Q: Can I skip the jumps?
A: Yes, you can skip the high jumps. But, there is 1 mandatory jump which is less than 1 meter high.
Q: Can I do the Zipline after the Canyoneering?
A: No, the Zipline starts at the entrance of the Canyoneering
Q: How many Canyoneering Tour Guides will be assigned for us?
A: The ratio is One (1) Canyoneering Tour Guide for maximum of 4 people. Example: 1 guide for 1-4 people, 2 guides for 5-8 people, 3 guides for 9-12 people, 4 guides for 13-16 people. You can hire additional guide for P800 per guide which includes the guide's pay, transportation, gears, and meal.